Pure Steam Generator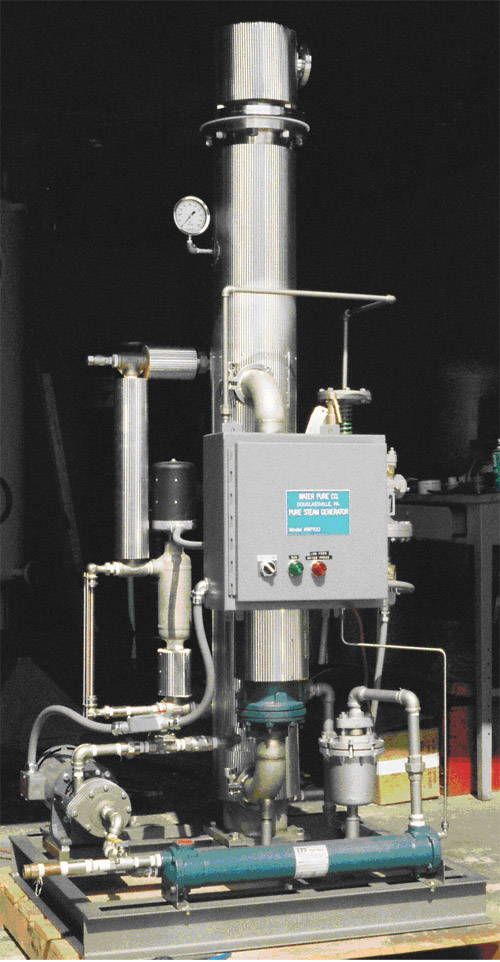 US Engineered Products automatic Pure Steam Generator are designed for pharmaceutical, cosmetics manufactures, research institutions, hospitals and other organizations requiring pure, pyrogen-free steam for sterilization. Ideal for in-line sterilization of liquid storage tanks and distribution equipment, the compact, steam-powered systems can also be used effectively to power sterilizers and autoclaves, or to provide steam at the point-of-use.
A US Engineered Products Pure Steam Generator can produce a significant cost savings for applications in which the presence of boiler treatment additives is not permitted. Chemical treatment can be freely used in the main boiler feeding the Pure Steam Generator without any fear of contaminating the integrity of the final sterilization process. The resulting increase in boiler efficiency can, in many cases, pay for the equipment cost in less than one year.
Available in six models with output capacities ranging from 100 to 6,000 lbs/hr. (46 to 2,718 kg/hr.), each Pure Steam Generator incorporates a proprietary Baffle for complete removal of entrained impurities, including all pyrogen contamination. All surfaces in contact with pure steam and feed water are fabricated of Type 316 stainless steel. Shipped completely assembled on welded steel frame, the US Engineered Products Pure Steam Generator is fully warranted against defects in materials or workmanship for a period of one year.
Contact us for more information info@usengpro.com
610-327-1965
Web site contents © Copyright US Engineered Products 2007, All rights reserved.